The February 2012 Veggie Dinner took us to another exotic locale…Greece! Jennifer and I (Eshe) co-hosted, it was one of the most preparation intensive meals to date. Good thing we had many Sous Chefs on hand.
Menu:
Falafel chips and hummus
Greek Salad
Spanakopita
Baba Ganouj & Pita
Vegan Moussaka
Total cook and prep time: 2 hoursFor our appetizer, we cheated. The
Falafel chips
were purchased from Trader Joes as was the hummus. We doctored up the hummus a bit by adding additional garlic, lemon juice and salt (to taste) a hint of olive oil and a dash of paprika completed the dish.
Greek Salad
1 English cucumber
3 large Roma tomatoes
1/2 purple onion
Feta Cheese
Seedless kalamata olives
Your choice of lettuce (we used arugula, which isn't very "Greek")
Wash and tear your lettuce. Thinly slice the cucumber and purple onion. Cube and de-seed the tomatoes. Chop olives. In a large bowl, combine ingredients and toss. Add cheese last as garnish.  Top with your dressing of choice, we suggest a balsamic vinaigrette.
Spanakopita
1/2 cup vegetable oil
2 tablespoons chopped fresh dill
4oz feta cheese
crumbled butter
melted 10oz chopped spinach thawed, drained, squeezed dry
2 large onions
2 tablespoons flour
4 eggs lightly beaten
16 oz phyllo dough
Preheat oven to 350 degrees. Heat vegetable oil in a large saucepan. Slowly cook and stir onions until softened. Mix in spinach, dill and flour. Cook 10 minutes or until most of the moisture has been absorbed. Remove from heat. Mix in feta cheese, eggs, salt and pepper. Separate one sheet of phyllo from stack and evenly brush with melted butter. Place another sheet over it and brush on butter. Cut the dough into long strips about 3 inches wide. Make sure to keep the remaining phyllo covered with plastic to keep from drying out. place a heaping tablespoon of filling on the edge of the strip. Fold the bottom right corner over the filling. Continue turning over to create a triangle. Repeat with remaining phyllo dough and filling. Place the filled dough triangles on a large baking sheet and brush with remaining butter. Bake for 45 minutes to 1 hour until golden brown.


Baba Ghanouj
3 medium eggplants
2 tablespoons olive oil
1/2 cup fresh lemon juice
1 cup tahini
1 teaspoon sweet paprika
1/2 cup chopped Italian parsley
1 head garlic
1 1/2 cup water
8 oz cream cheese
8 oz feta cheese
salt and pepper
Preheat oven to 425 degrees. Prick eggplants wtih fork and bake (turning several times) 40 min or until soft. Remove from oven and cool. Remove skin and chop. Lightly salt and drain in colander for 1 hour to remove excess liquid. Place garlic on foil and drizzle with olive oil. Place on a piece of foil on a cookie sheet. Bake at 350 degrees for 40 minutes. Let cool and sqeeze garlic out. Place all ingredients into a blender except 4 oz of feta and the parsley. Blend for 3-4 minutes or until smooth and warm. Add remaining feta and parsley and blend for 10 seconds.
A word to the wise: Make sure that your blender has a powerful motor. Our Baba Ganouj was nearly just Baba on account of the lack luster performance of my run of the mill blender. It was touch and go, but in the end, success! The recommendation I would make – blend in smaller increments, adding a bit at a time instead of everything all at once.
Moussaka
Our recipe for Vegan moussaka came from the vegetariantimes.com, please visit their site for preparation details. The moussaka was the one dish that was less than stellar. Typically, moussaka is like a Greek lasagna, mine…not so much. It was far too wet, and did not hold together as it should have. Taste wise, it was decent, but nothing to write home about. What went wrong? I think the eggplant should have sweat out a little more water before adding, perhaps even grilled ahead of time, the same with the tomatoes. The seeds should have been removed and perhaps a little dehydration in the oven prior to cooking. Here is the side by side of what it should have looked like, and what it did: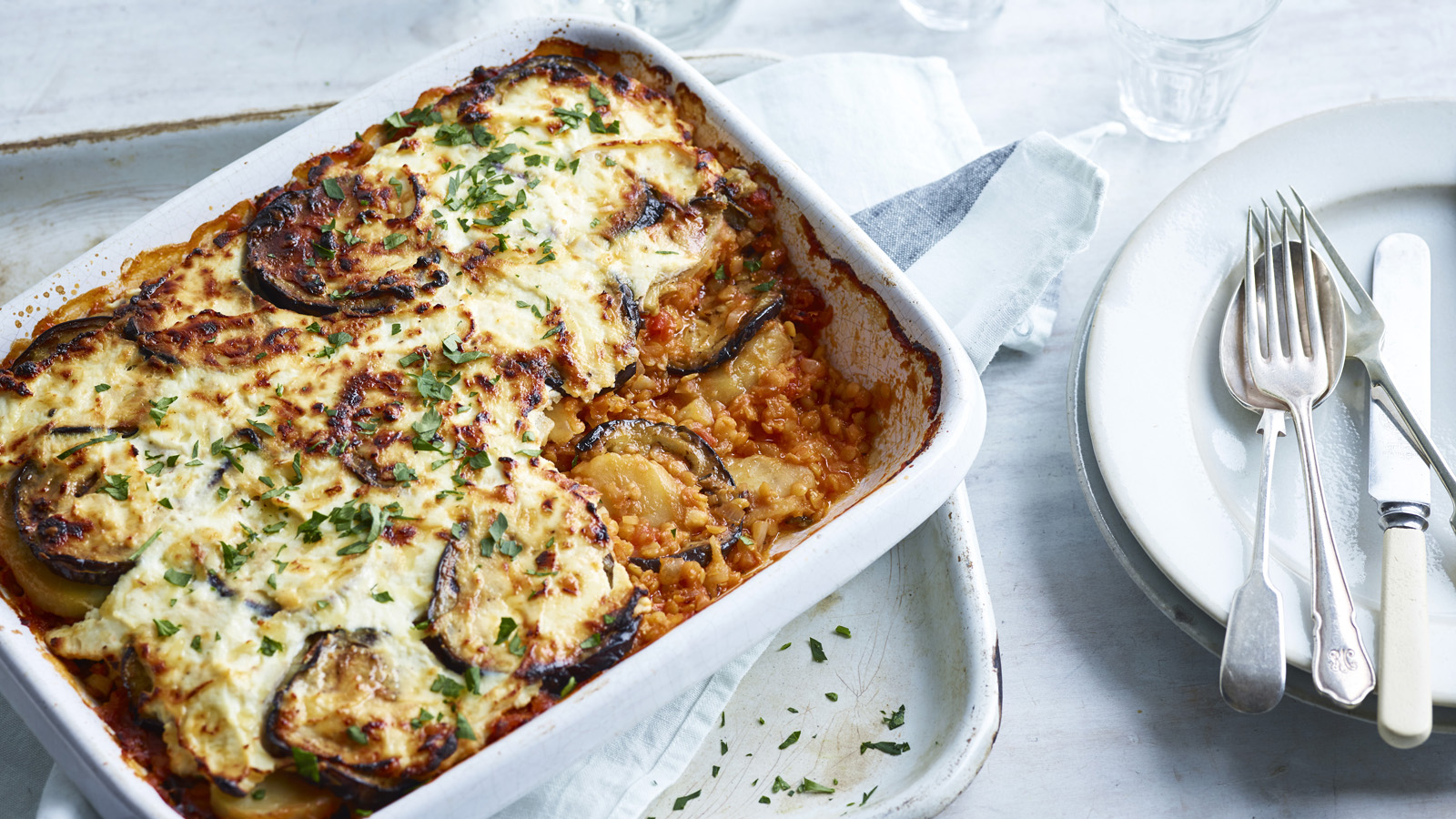 What it was supposed to look like
what it did.
After dinner, I made the remainder of the moussaka into a delicious soup. A (cooking) failure is only a failure if it cannot be turned into something delicious to eat. Until the next blog, remember: happy eating is healthy eating!